QUEBRADA
NEWS ARCHIVE
Colosseum
3/28:
Rickson Gracie is going to be the Executive Producer of the next event.
3/9:
Rickson Gracie isn't retiring. Colloseum officials are going to go to Los Angeles at the end of the month to resume negotiations for the Rickson vs. Ogawa match. Rickson needs 6 months to train once he's done with his movie, so the fight isn't likely to take place this year. Before Rickson's son died they were looking to have the match on 11/3, but now they are hoping for sometime in January 2002.
2/13:
The contract signing for the Naoya Ogawa vs. Rickson Gracie match that was supposed to take place during the first 10 days of February has been postponed due to the death of Rickson's oldest son. Rickson is not taking the death of his beloved son well and is contemplating retiring from active competition.
2/11:
Rickson Gracie's eldest son Rockson, 19, died in a motorcycle accident on 2/9. Rockson was working in New York as a fashion model.
12/29:
Colloseum officials will visit Rickson Gracie in L.A. during the month of March to decide the specifics (rules, $, etc.) of his match against Naoya Ogawa. Not surprisingly, the match will be held in the Tokyo Dome.
12/27:
Rickson Gracie's one match next year will be against Nagoya Ogawa sometime in the fall. PRIDE was trying to put together Rickson vs. "Gracie Hunter" Kazushi Sakuraba, but the excuse is that Rickson didn't want to fight a guy that was so much smaller than him. New Japan was trying to put together Rickson vs. Riki Choshu, who is now back full time, but Rickson rightfully laughed at that opponent. Ogawa is going to be concentrating all his efforts on beating Rickson, so he'll most likely fight even less in 2001 than he did in 2000.
12/12: Greedy Gracie
Nikkan Sports has an article that essentially says Rickson Gracie doesn't care who he fights next as long as he is paid 500,000,000-en. I don't believe anyone will give him close to this much because I don't think it's possible in the current market to run a profitable show when one of the fighters is making about $5 million. Unless the ticket prices were through the roof, even if they sold out a Dome (which is possible, but Funaki was highly marketable opposition and more than 25,000 tickets went unsold) the whole live gate would go to paying off the main event fighters. There's money in PPV, video sales, merchandise, etc., but in Japan most of the money is still made from ticket sales. Rickson earned about 1,000,000-en for his fight against Masakatsu Funaki, and even at that money there were only a handful of possible opponents.
12/7:
Rickson Gracie is in Japan negotiating for his fight for 2001. In addition to Colloseum, he's talking to DSE and New Japan. I can't see New Japan winning out because Rickson wants to beat an easy opponent in a legit match for tons of money, and that's not going to benefit a pro wrestling organization that he'd probably never fight for again.
7/8:
Colloseum will start negotiating to put together Rickson Gracie vs. Naoya Ogawa main event next week. The theme of Colloseum 2001 is Dato (overthrow) Rickson, and supposedly Ogawa is the native with the best chance to do it (ROFTLMAO).
7/2:
Naoya Ogawa returned the NWA World Heavyweight Title "so he could concentrate on training for Rickson Gracie." This gets him out of fighting before small crowds that don't care about him and having to do a job.
7/1:
Colloseum officially announced they would run a dome show next year called Colloseum 2001 with Rickson Gracie once again in the main event against a native. Naoya Ogawa is still the frontrunner to be Gracie's opposition.
5/29:
Rickson Gracie expressed interest in fighting Naoya Ogawa on Colosseum 2001. He said he respects what Ogawa has accomplished in judo and called Ogawa a real warrior. He said Funaki didn't have the spirit of a warrior and that he doesn't want to fight Kazushi Sakuraba to avenge his brother Royce's loss because Sakuraba doesn't have the aura. It's probably more like the promoters fear (and probably rightfully so) that Sakuraba still isn't a big enough name or draw to build your only show of the year against, especially when Rickson is getting 150,000,000 yen to fight. Ogawa had said back in February that he wanted to fight the winner of Rickson vs. Funaki, but Tatsumi Fujinami is trying to convince Gracie to face Shinya Hashimoto instead. Fujinami also suggested Kazuyuki Fujita or Manabu Nakanishi (he was an Olympic wrestler, but has never done any shooting).
The 5/26 show peaked at a 17.5 rating, which was the best for it's time period, and averaged 12.6.
5/26: Funaki Embarrassed By Rickson, Says He's Retired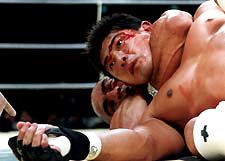 5/26 Tokyo Dome 40,420
Rickson Gracie beat Masakatsu Funaki by TKO at 11:46 when Funaki got faint from being in the choke sleeper. Funaki came to the ring with a Japanese sword, but that and some low kicks in succession were the only highlights of Funaki's day. Rickson got the mount quickly and hit Funaki continuously before choking him out. Funaki never tapped, but his face turned white and he was out of it so the fight was stopped. The pride of the 31-year-old Funaki was seriously damaged, and he got on the house mic and said "thank you for 15 years." Later he said he fought with a "dead mind" today and that while he was being choked out, he wondered if he was going to die. After recieving a doctor check, he said that his retirement would start when he left the building today. He'll still support Pancrase, perhaps in the same form he was except without being an active competitor, at least for a while. Not that it mattered, but the fight was fought under all the rules Rickson had been demanding.
Kiyoshi Tamura defeated Jeremy Horn by unanimous decision after two 5:00 rounds. This was a very close fight, but it was under RINGS Open Tournament rules and Tamura was giving up 20kg, so the weight difference helped him get the decision.
Mario Sperry beat Hiromitsu Kanehara by 2-0 decision. Sperry took Kanehara down and dominated him on the mat the whole time.
Kunihiro Suzuki defeated Luciano Basile by decision 5-0. This was a really close fight that went two extensions. Finally, Basile became exhausted and Suzuki kicked him in the knee several times to earn the decision.
Pancrase's Genki Sudo went to a 15:00 draw with Andre Pederneiras. This was under Colosseum 2000 rules, and they don't have any judging.
Yuki Kondo KO'd Royler Gracie's #1 student Saulo Ribeiro in 22 seconds. Kondo caught Saulo with a right high kick to the face then several knee kicks until Saulo fell. Kondo then mounted him and showered punches for the KO. Saul got a bad cut on the left side of his head which required 7 stiches to close.
5/25:
Masakatsu Funaki didn't appear before the press on the 25th because he didn't want Rickson to see what he looked like (his physical condition and so forth), but made it known through Pancrase Presisident Tadashi Ozaki that he vowed to KO Rickson within 3 minutes. The sides still haven't reached an agreement on the legality of striking with elbows.
5/18:
The latest way to get the Colloseum 2000 show in the news saw Masakatsu Funaki meet with former U.W.F. stars Akira Maeda, Nobuhiko Takada, and Yoshiaki Fujiwara. All three gave him encouragement and wished him good luck, with Fujiwara pointing out that Funaki can't be victorious if he isn't cunning.
4/30:
There are big problems because Masakatsu Funaki has refused to accept Rickson's latest rule modifications that make knees and strikes to the head illegal. Pancrase President Masami Ozaki is totally fed up because they've conceded to plenty of things already. To show how pissed he is, he threatened to pull all the Pancrase fighters from the show, which kill the show dead.
4/25:
They finally announced a full line up for the show. It's weird seeing RINGS and Pancrase guys on the same show even though they aren't fighting each other since that's always been a big rivalry. Aside from Masakatsu Funaki, Pancrase has Yuki Kondo against Saul Rubiel and rookie Genki Sudo against Andre Pederneiras, the latter of which sounds like a mismatch in skill as well as experience. Aside from Kiyoshi Tamura vs. Jeremy Horn, RINGS has Hiromitsu Kanehara, who didn't work their last show due to injury, against Brazilian legend Mario Sperry. Sperry is best known in the US for losing to Igor Zinoviev on 11/18/95 in what at that point in time was the best shoot to air on PPV here, but he's getting up in years and hasn't fought much in recent years although he's remained active in the field. That makes it a good situation for Kanehara because it'll be a big deal if he wins like when Alexander Otsuka beat a washed up Marco Ruas, but it's no big deal if he loses since Sperry is a big name that's hardly ever lost.
4/11:
If brother Royce Gracie's rules weren't ridiculous enough, Rickson is looking to get rules instituted for his match against Masakatsu Funaki that don't allow the second to throw in the towel. This would mean that if one of the fighters were knocked out, their opponent would have to either beat them to death or wait for them to come to because by these rules the match can only end when one of the fighters gives up and it's awful hard to give up when you aren't conscious. Thrusts to the head have been ruled illegal and elbows will also be ruled illegal if Rickson gets his way. This is shaping up to be a long boring ground fight.
4/6:

Masakatsu Funaki & Kazuyuki Fujita are training together for their upcoming Tokyo Dome matches. Unless Funaki is just being nice and helping Fujita out, this is probably more for publicity than anything else.
3/28: Tamura Gets Semifinal of Funaki/Rickson Show
The semifinal of the 5/26 Tokyo Dome show will be RINGS champion Kiyoshi Tamura against former Extreme Challenge champion Jeremy Horn. As usual, Tamura will be giving up a lot of weight, probably around 35 pounds, but you never know what Horn will weigh in at. Tamura is more skilled, but Horn is a very tough opponent that is always capable of a win and his matches often go to the judges, so anything could happen. Tamura's got what should be a very tough match against Gilbert Yvel a month earlier, so his health could go a long way toward deciding the outcome of this fight. This should be a win/win situation because Tamura will draw some fans for Coliseum and RINGS gets a lot of exposure for their champion who as a member of RINGS has never fought before more than 17,048. Due to the importance of this match, RINGS, which has been all shoot since October, would be nuts not to give Tamura a worked win over Yvel on 4/20. It doesn't matter if Tamura can beat Yvel in a shoot or not, what matters for the future of the promotion is that their champion goes in there on 5/26 at 100% and follows up his win against Renzo Gracie with another high profile victory.
3/18:
Rickson Gracie is training much harder for his fight against Masakatsu Funaki on 5/26 than he did for the gimmes against Nobuhiko Takada. He feels the 10 year age difference won't be a factor as long as he's in top shape, and supposedly he already looks quite impressive.
3/3:
It looks like elbows and headbutts will be illegal in the Masakatsu Funaki vs. Rickson Gracie match. They are doing one 15 minute round. I'm not sure if there will be overtime if it's close.
1/25: Ogawa For Coliseum 2001?
Naoya Ogawa challenged the winner of the 5/26 Masakatsu Funaki vs. Rickson Gracie match. Neither match would be a dream match when it came to ability, but would sure beat the jokes known as Rickson vs. Takada. This would be another huge money match because Ogawa means more than Funaki at the box office due to having the manipulative powers of Inoki behind him. Ogawa was great in Judo, but is more of a myth in mixed than anything else. Inoki knows how to make people only remember the positive aspects and how to make money though, so Ogawa isn't likely to be exposed anytime soon. Ogawa's skill is nowhere near that of Funaki or Rickson, but he is much bigger and more powerful. Given that he's never done a true shoot, he doesn't stand a great chance but he does have youth and health on his side.
1/18:
Tickets for the 5/26 Coliseum 2000 show at the Tokyo Dome show in yen are 32,000, 23,000, 10,000, 7,000, & 5,000. In other words, it's about $320 for the best seats in the building or $50 for the worst seats. This is pretty much standard pricing for the Tokyo Dome from what I can remember. What's different is that the top 300 tickets are being sold for 180,000 yen, which is nearly the highest ticket price ever in Japan in rank, but not in actual cost because Inoki vs. Ali was 300,000 yen.
12/15:
Masakatsu Funaki vs. Rickson Gracie was officially signed today. The fight will be the main event of the show Coliseum 2000 is promoting at the Tokyo Dome on 5/26/00. Funaki supposedly isn't going to fight in Pancrase in the mean time. He came to the press conference today with freshly bleached blonde hair (he colored it yesterday).
12/7: Rickson Might Actually Fight Someone Good
Masakatsu Funaki has wanted this fight Rickson Gracie for a long time. It sounds like he may finally get his wish. The idea is for the fight to take place next autumn in a dome or big stadium. Rickson should fight Kazushi Sakuraba to defend family honor since his brother Royler lost to him on the 11/21 PRIDE.8 show, but Funaki is a bigger name (read more money) and easier opponent because he's so banged up. Funaki in his prime would beat Rickson, but who knows what he'll have left by the time they fight. If they can finalize this thing, Funaki should take off from active competition in Pancrase and just train his ass off (like Takada was supposed to be doing, except he forgot to train...). A win would make Funaki a god in Japan, so whatever money they'd lose in the short run would be made up several times in the long run. A loss wouldn't really hurt Funaki because Rickson is the mythical best fighter in the world, so he's supposed to win.
Contact info
All inquiries and orders should be e-mailed to M.L.Liger@juno.com.